Global Advisory Council Chairman Returns to Rwanda
Evelyn Windhager Swanson, a longstanding supporter of TechnoServe, writes about her travels in Rwanda.
Evelyn A. Windhager Swanson has been involved with TechnoServe for more than 20 years. She is the chairman of TechnoServe's Global Advisory Council and our European Board of Directors. Evelyn began her career on Wall Street and then transitioned into nonprofit fundraising with the Environmental Defense Fund. She lives in London and New York with her husband and their two children. This story was originally published in the Winter 2011 edition of TechnoServe's World newsletter.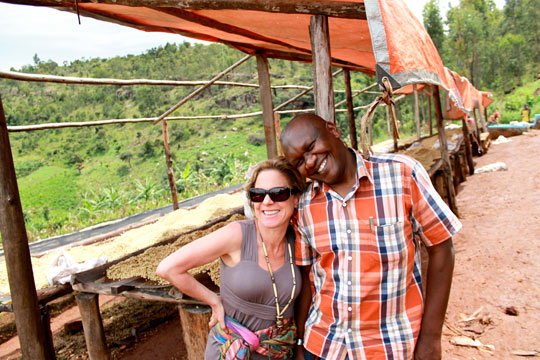 Hard as it is to believe, nearly 20 years have passed since I first got involved with TechnoServe – and since I made my first memorable trip to Rwanda. At that time, Rwanda was an extremely isolated and chaotic place, one which few of my friends, family and colleagues had heard of. Today, many of us associate Rwanda with the unspeakable atrocities that occurred here in the mid-1990s. But as I discovered "on location," Rwandans have not only moved far beyond those dark days, they are also making huge strides in improving their economic lives. I am proud that TechnoServe has played a part in this extraordinary transformation, and feel privileged to have visited some of TechnoServe's current projects with Ndavi Muia, TechnoServe's Senior Business Manager [now Country Director], as my experienced and charming host.
TechnoServe's work in Rwanda has always involved equipping people with the business knowledge and technical skills they need to lift themselves out of poverty. In 1991, TechnoServe's main Rwandan client was the rice cooperative Cavecuvi. Located near the volatile southwest Congo/Burundi border, Cavecuvi was the largest cooperatively owned agribusiness in the country, producing 10 percent of Rwanda's rice. While TechnoServe had worked with Cavecuvi for only five years at that time, the positive impact had been dramatic: With TechnoServe's guidance, Cavecuvi had increased its rice production 15-fold, boosted revenue 600 percent and turned its losses into profits.
Not surprisingly, Rwandan progress came to a standstill in the aftermath of the 1994 genocide. So it was with incredible surprise and delight that I rediscovered Rwanda in September. Well-stocked stores line the newly paved streets. New buildings are under construction everywhere. Most everyone is wearing shoes and bicyclists cover the hilly roads transporting goods – rarely do I glimpse a woman or child carrying a heavy burden on their head. And litter, a common plague in most African cities, is almost glaringly absent.
TechnoServe's work in Rwanda focuses on two main sectors: dairy and coffee. Dairy is a strategic priority because milk provides one of the fastest returns for a livestock owner in the developing world, and because dairy is a leading catalyst for development in rural East Africa. Launched in 2008, TechnoServe's work already directly benefits 24,000 Rwandan dairy farmers and their families, with the goal of doubling their household dairy income by 2018.
My tour of one of the 16 TechnoServe-affiliated dairy cooperatives demonstrated how TechnoServe is helping connect farmers to cooling facilities – centralized warehouses where they can sell their milk in bulk – and learn about artificial insemination, which promotes productive livestock. TechnoServe is also helping farmers access capital and higher-paying milk markets. With TechnoServe's guidance, the yield and quality of milk is dramatically enhanced, boosting the return to individual famers. TechnoServe's impact is evident along every step of the production process: the farmer learns to better care for the cow, gains access to veterinary facilities and receives a much better price for higher quality milk. I was particularly pleased to meet the female director of a milk cooperative, Jeanne Ukwibishaka, at the Rubona cooling plant, underlining TechnoServe's contribution to empowering Rwandan women. A confident female business leader is someone that I would likely not have met during my 1990 Rwanda visit!
TechnoServe's Coffee Initiative helps farmers realize the incredible potential of their "Rwandan Bourbon" coffee. TechnoServe has helped small-scale farmers organize into cooperatives, develop better farming techniques, purchase wet mills (a key step to improve coffee bean quality), and secure working capital loans. TechnoServe's impact can be measured in the 15 percent to 20 percent productivity and profitability increase for about 20,000 Rwandan coffee farmers. This translates into directly bettering the lives of about 120,000 family members, not to mention the benefits to local workers hired during harvest and processing!
TechnoServe's impact was brilliantly brought to life for me during our visit with Thaciane Mukansengimana, the female vice president of the cooperative COCAMU. In three short years, COCAMU has enabled its 396 members to increase yield and quality, and capture a greater share of the profits because COCAMU now mills the beans itself rather than paying an expensive middleman to do so. Impressively, COCAMU has secured a working capital loan on its own business merit and is virtually self-sustaining and independent of TechnoServe.
Dairy and coffee have a great deal of growth potential in Rwanda; only a small portion of these sectors has been tapped. Coupled with smaller initiatives in other farming sectors, I have no doubt that TechnoServe's work in dairy and coffee will continue to be an integral part of Rwanda's magnificent development.