Entrepreneur Launches Business to Protect Ecuador's Orchids
Dayana Miranda, left, and her team at Floare sustainably collect, cultivate, reproduce and market orchids.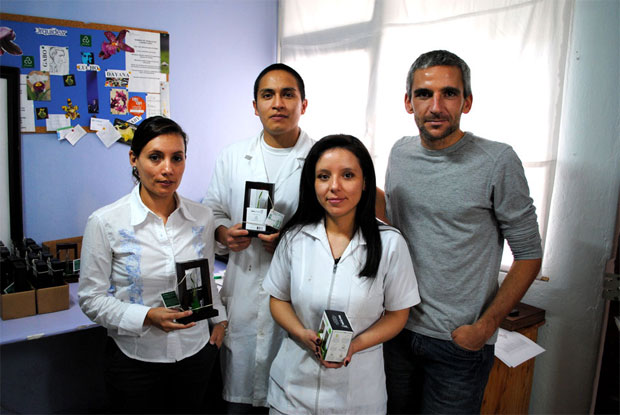 Ecuador has some of the highest levels of biodiversity in the world, with a vast array of plant life that includes more than 4,000 orchid species. Yet in recent years, deforestation caused by large-scale logging, exploitation of non-renewable resources and lack of land-use planning has cost Ecuador large portions of its natural habitat. As a result, a significant number of orchid species have become extinct.
Concerned about this trend, a group of young, enthusiastic Ecuadorians created Floare in 2005. Floare collects, cultivates, reproduces and markets orchids in a sustainable manner. The first years of the company were dedicated to collecting the mother plants, establishing the company legally and acquiring the environmental permits required for orchid production and commercialization. At the end of 2008, Floare was ready to begin marketing its main product, baby orchids.
Baby orchids are created by cross-breeding the best Ecuadorian orchid mother plants. A 3 to 5-centimeter baby orchid is planted inside a glass flask, and then sold inside a wood frame or a package. The plantlet will grow for several months without receiving any type of external care. This characteristic makes baby orchids an ideal gift.
Floare's product: the baby orchid. TechnoServe helped Floare to expand its business to new markets.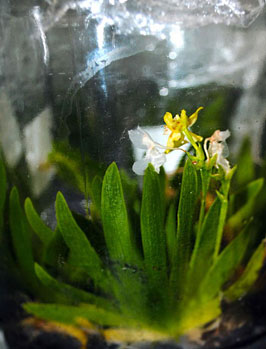 After identifying the products and formally establishing the company, Floare's management team recognized the need for a detailed business plan that would help them expand to new markets. In 2011, Floare participated in the inclusive business plan competition Siembra Futuro, organized by TechnoServe and SABMiller (Cervecería Nacional).  Floare impressed the competition's judges and won $15,000, as well as technical assistance from TechnoServe's business advisors. Floare worked with the advisors to design and implement a business plan focused on exporting their products.
Floare's team is led by Dayana Miranda, a former banker who quit her job to launch the business. Floare has five committed, full-time employees. In addition, the company generates indirect jobs for more than 25 suppliers, including the Ecuadorian General Foundation, which helps people with intellectual disabilities. The company also provides educational opportunities to aspiring scientists. "As scientific research is one of our main objectives, we offer internships to biotechnology students and help them conduct thesis projects with our company," Dayana said.
Floare's scientific research on orchids is helping to fill a knowledge gap in Ecuador. Having established strong relationships with key clients and suppliers, Dayana and her team are working to improve the company's infrastructure, increase production capacity, develop new products and improve its marketing.
According to Dayana, the experience gained from the business plan competition was inspirational both personally and professionally. The people she met during the process are now not only great friends, but also business allies and suppliers.
"Leading an entrepreneurial team has been one of my greatest satisfactions in life," Dayana said. "Seeing our ideas turning into realities, getting to know great people interested in developing new ideas for businesses and having the luck to focus on one of our main goals — nature care and conservation — have been the factors that motivate us to continue dreaming and working on our orchid project."