Ripe Opportunities in Rural Rwanda
Agriculture for Impact recently visited STRYDE participants in Northern Rwanda who are demonstrating that agriculture can improve livelihoods for youth.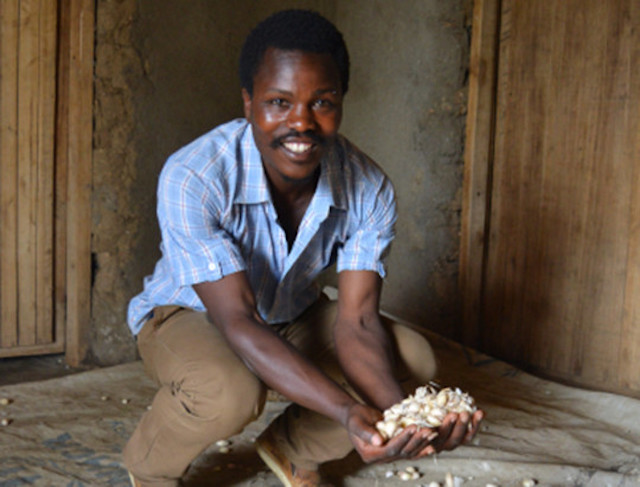 Jackson Fatlrakumutima's farm lies near the borders of Uganda and the Democratic Republic of Congo, in Rwanda's Musanze District. After graduating from TechnoServe's Strengthening Rural Youth Development through Enterprise program, or STRYDE, the 27-year-old took out a loan to start farming Irish potatoes and garlic.
The garlic business has been especially lucrative for Jackson. He sells his garlic for $7 per kilogram right at the farm to brokers who then sell it to buyers in Kigali. The business has become so successful, in fact, the Jackson was able to rent another hectare of land to grow more potatoes, tomatoes and cassava for additional income. During harvest season he employs ten people to help him on the farm.
Jackson's successful farming business demonstrates the ability of agriculture to generate income and improve livelihoods for youth in Africa.
Agriculture for Impact's new "Off the Ground" report highlights several interventions in Rwanda's agricultural value chains – including those of STRYDE – to build strong livelihoods in the country. The report stresses the importance of STRYDE's training and aftercare in fostering youth entrepreneurship. While loans, like the $770 one Jackson received, can help to start young businesses, the skills acquired through training and mentorship are critical to ensuring the successful implementation of business ideas.
STRYDE's training program covers business management skills, financial literacy, personal development and confidence. After completing the training, TechnoServe supports graduates to develop business plans and access financing. These young entrepreneurs help to add value and build resilience in the country's agricultural value chains.
For rural youth who don't view agriculture as a path to prosperity, STRYDE and similar programs are proving that it is a viable option for earning a good income. Young entrepreneurs like Jackson are the key to strong and sustainable rural development.
Read more about the young entrepreneurs Agriculture for Impact met in Rwanda.