Impact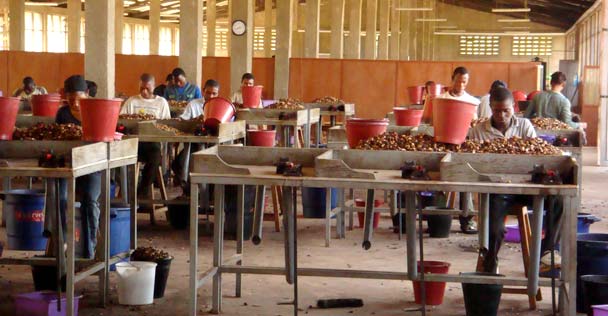 TechnoServe has provided comprehensive technical assistance to help five Beninese cashew processors establish and expand operations, increasing their production by nearly 150 percent. These cashew processing companies employ more than 1,200 people, 63 percent of whom are women. TechnoServe also helped three of these processors to establish a service company, Benin Gold, to market and export their products under one brand. Together, the companies are able to save costs on logistics and marketing, fill orders more quickly and better manage cash flows.
On The Ground
Projects

Building a Vibrant Cashew Processing Industry
TechnoServe is an implementing partner in the African Cashew Initiative, which works to increase the quantity and quality of cashews produced and processed on the continent. In Benin, TechnoServe provides processors with technical assistance to open new factories and make existing facilities more productive and profitable. Participating processors receive hands-on training in food safety, quality control and other aspects of production to help their products comply with internationally recognized standards. In addition to providing operational assistance, TechnoServe helps link processors to financing and international buyers.
Blog Posts
January 25, 2012
In Nicaragua, Iveth Juárez, a small business owner who processes and sells cereal to the local market, had attended seminars, workshops, courses and training sessions on accounting and finance. But at the end of each session, she always felt the same sense of confusion.
Contact
TechnoServe Benin

Lot 627, Von de la Résidence de l'Ambassadeur des Pays Bas, Face Villa Séréna
Quartier: Les Cocotiers
Cotonou, Bénin

Tel: +229 62011867​

Laila el Hankari

West Africa Program Development Manager
lhankari@tns.org