The Haiti Hope Project
The Haiti Hope Project is a five-year, $9.5 million public-private partnership among businesses, multilateral development institutions, the U.S. Government and nonprofits, designed to create sustainable economic opportunities for Haitian mango farmers and their families.
Haiti's sweet and spicy Francine mango at market. © Audra Melton Photography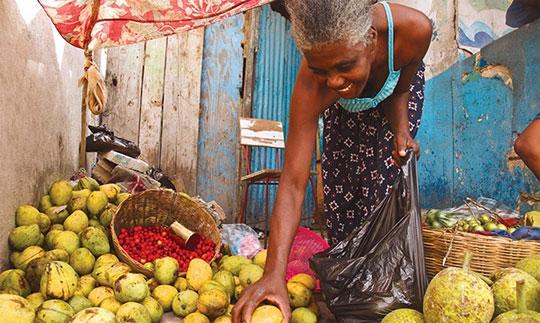 Context
Once known as the "Pearl of the Antilles", Haiti has been an important exporter of coffee, vanilla, cane sugar, cacao and essential oils throughout its history. Unfortunately, in recent decades deforestation, soil degradation, overpopulation and political instability have taken a heavy toll on rural Haiti. The trade embargo in 1994 ended or severely reduced several industries, and the 2010 earthquake had a severe impact on the people, markets and already suffering infrastructure of the country. The disaster did, however, galvanise the Haitian people and international supporters, and the past three years have witnessed significant improvements in road infrastructure, access to finance and support for business and foreign investment.
Opportunity
Long-term, sustainable solutions to increase agricultural productivity and incomes are critical for Haiti's reconstruction and recovery. Haitian farmers produce about 250,000 tons of mangoes annually, but fewer than 5 percent reach the lucrative export market due to inefficient harvesting practices and transportation challenges. With better agricultural skills and business practices, farmers can increase their incomes, and the mango sector can generate broad-based economic growth in the country.
Strategy
The Haiti Hope Project is a five-year, $9.5 million partnership among businesses, multilateral development institutions, the U.S. Government and nonprofits, designed to create opportunities for mango farmers and their families.
Haiti Hope aims to double the mango income for 25,000 Haitian farmers after five years of participating in the Project. Achieving this goal will raise the standard of living for beneficiary farmers and contribute to the long-term development and revitalization of the country.
Haiti Hope promotes training opportunities for local mango producers and connects smallholder farmers to exporters, thereby linking them to international markets. The Project engages farmer cooperatives and empowers producer business groups, providing training in business skills, productivity measures and post-harvest handling. Haiti Hope has implemented activities in regions where Haiti's mango industry has the highest potential for success, and works to facilitate a supportive environment to strengthen the mango value chain.
The Project also integrates and prioritizes women's involvement throughout the entire mango industry value chain. All farmer groups receive an introduction to gender issues and create a women's committee and gender action plan based on their needs. They also receive training on women's rights under Haitian law, financial management for women and a gender-minded focus on leadership. Success in achieving gender goals is being measured and evaluated throughout the Project's duration.
Results
Since its inception in September 2010, the Haiti Hope Project has engaged 24,000 smallholder farmers, 46 percent of whom are women. In addition, it has established relationships with farmer cooperatives and will provide ongoing support to groups with hundreds of active members.
In May 2011, the Project partnered with Sogesol, a local microfinance institution, to launch farmer credit. To date, more than 3,000 farmers have received more than $700,000 in low-interest loans through the program.
More than 16,000 farmers have participated in training covering technical, organizational and business skills.
The Project collaborates with exporters, importers and buyers in the United States to promote and support the market for Haitian mangoes. Between 2012 and 2013, export sales from farmer groups in the program increased by 175 percent, reaching as far as the West Coast and Canada.
Haiti Hope is working to develop processing opportunities. The Project has begun testing samples of mango pulp for use in juices and will continue to research feasible mango processing opportunities.
Partners
The Haiti Hope Project is a public-private partnership comprised of The Coca-Cola Company; the Multilateral Investment Fund (MIF), a member of the Inter-American Development Bank Group (IDB); the U.S. Agency for International Development (USAID); and TechnoServe. The Project is also supported by the Soros Economic Development Fund and other international and local organizations.
The Coca-Cola Company is the world's largest beverage company with a portfolio of more than 500 brands and a global distribution rate of 1.6 billion servings a day. The Coca-Cola Company is committed to building sustainable communities, focusing on initiatives that protect the environment, conserve resources and enhance the economic development of the communities in which the company operates.
Established in 1959, the Inter-American Development Bank supports economic and social development in Latin America and the Caribbean, providing solutions by partnering with governments, companies and civil society organizations. The Multilateral Investment Fund (MIF), a member of the IDB Group, promotes poverty reduction through private sector development, with an emphasis on microenterprises and small- and medium-sized businesses.
The U.S. Agency for International Development (USAID) is an independent agency that provides economic, development and humanitarian assistance around the world in support of the foreign policy goals of the United States.