TechnoServe Business Advisor to Participate in President Obama's Forum of Young African Leaders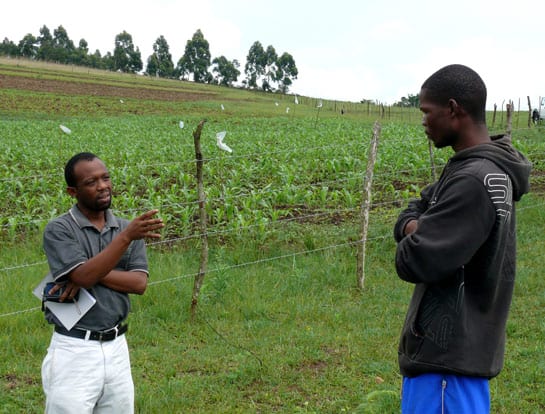 TechnoServe/Swaziland business advisor Samkelo Sukati (left) talks with business plan competition participant Masiphula Mamba.
AUGUST 2, 2010 — A TechnoServe/Swaziland business advisor is one of 120 young leaders who will discuss Africa's future at a forum hosted by President Barack Obama.
Samkelo Sukati will join leaders from more than 40 countries in sub-Saharan Africa at the forum, which takes place Aug. 3 through Aug. 5 in Washington, D.C. Sukati is part of a delegation of three Swazis chosen by the U.S. Embassy in Swaziland.
Sukati, 32, is an industrial engineer by trade and has worked for TechnoServe for two years. He helps entrepreneurs who participate in TechnoServe's business plan competitions to expand their businesses. Sukati previously worked for the Mbabane Municipal Council, where he designed and maintained occupational health and safety systems.
The President's Forum with Young African Leaders will focus on the themes of youth empowerment, good governance and economic opportunity. President Obama will host a town hall meeting at the White House with the African leaders to discuss their vision for transforming their societies over the next 50 years. The forum also will include small-group discussions on topics such as transparency and accountability, job creation and entrepreneurship, rights advocacy and the use of technology to empower individuals and communities.
"I hope the forum will motivate us as young leaders to take our destiny as a people in our own hands," Sukati says. "We need to realize that we cannot change the past, but we can definitely shape our future."
About TechnoServe: TechnoServe empowers people in the developing world to build businesses that break the cycle of poverty. Growing enterprises generate jobs and other income opportunities for poor people, enabling them to improve their lives and secure a better future for their families. Since its founding in 1968, the U.S.-based nonprofit has helped to create or expand thousands of businesses, benefiting millions of people in more than 40 countries. The Financial Times has rated TechnoServe one of the top five NGOs for corporate partnerships. TechnoServe's corporate partners include Cargill, The Coca-Cola Company, General Mills, Goldman Sachs, J.P. Morgan, Nestlé-Nespresso, Olam International, Peet's Coffee & Tea and Unilever, among others. Charity Navigator has also awarded its highest Four Star ranking to TechnoServe.
For more information, please contact:
Andrew Eder, Senior Marketing Communications Coordinator, TechnoServe; Tel: +1 (202) 719-1327; Email: aeder@tns.org.