Stories From The Field: Rene Reinsberg, TechnoServe Fellow, in Guatemala
Rene Reinsberg, a TechnoServe Fellow, supports local entrepreneurs in Guatemala.
At the time, my wife Lisa, a human rights lawyer, was offered a Fulbright fellowship and we decided to move to Latin America for one year. I had been structuring hybrid bonds and derivatives at Morgan Stanley in London, which is where I first heard about TechnoServe. A colleague told me about TechnoServe's approach to creating business solutions to poverty, and I was immediately attracted to the idea of becoming a TechnoServe Fellow. I had already studied Spanish in Costa Rica and volunteered with an international bank in Venezuela, but I was excited to work with TechnoServe as a Fellow in Guatemala.
The TechnoServe Guatemala team gave me a very warm welcome, and I greatly enjoyed working with them from day one. Ricardo, who had been a TechnoServe Fellow in Guatemala the previous year and who was heading back to Brazil, also helped make the transition as smooth as possible. On my second day, I already found myself pondering over a new price and distribution strategy for a natural cosmetics start-up whose founders I had met just a few hours earlier.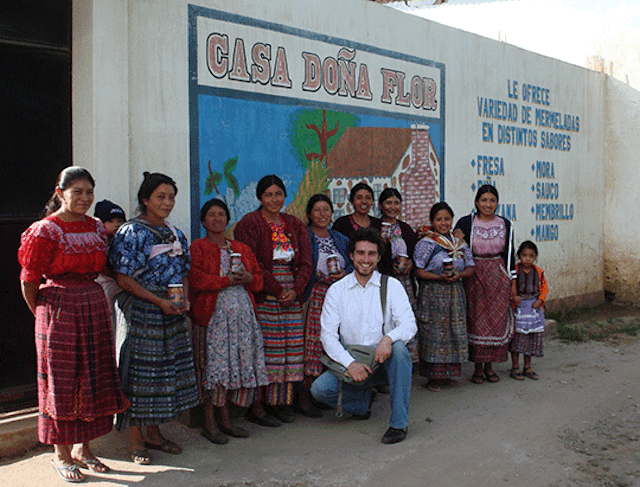 My main task was to consult local entrepreneurs who had previously participated in TechnoServe's business plan competition, Idea Tu Empresa (ITE), and support some of them in their quest for financing.
However, I was also able to learn about and get involved in various office initiatives. For example, during my first week, our alternative energies team organized a one-day conference on biodiesel at a local university. The conference included both local and international participants, and it gave me many valuable insights and perspective on an industry I had not known very well before.
I also had the chance to meet and discuss the business plans of entrepreneurs running existing businesses and associations in various regions of Guatemala. One of the most memorable of these visits was with a group of Mayan women from Casa Doña Flor in Totonicapán, who produce some formidable jams. I can especially recommend the apple, strawberry, and mango flavors, all of which have found a permanent place on my kitchen table.
I learned a great deal during my three months as a TechnoServe Fellow. I learned not only about the Guatemalan people but also about their business philosophy. I met entrepreneurs with amazing spirit and being able to help some of them and see their gratitude was extremely rewarding.
One local entrepreneur I worked with is Leonora, the owner of a thriving ceramics business. Shortly after I started at TechnoServe, she invited me to visit her production site on top of a hotel that her father owns in Guatemala City. Following the business support she received from TechnoServe after her participation in the ITE competition, two lingering factors limiting her growth were the lack of capital needed to find an appropriate location for her business and the lack of working capital she needed to significantly expand her activities. Sometime later, she finally got approval for a $10,000 small business loan, and she is now looking to move to a new location and employ five additional people on a permanent basis.
I would like to thank Lionel and Eduardo for taking me on board as a TechnoServe Fellow, in addition to the rest of the team – Carla, Maite, Michelle, Alfredo, and Byron – for all their support and for the overall great time. I am looking forward to coming back to Guatemala at some point if only to refill my stock of delicious jams!