#SheFightsPoverty 2018: Celebrating Women of TechnoServe
For International Women's Day, TechnoServe celebrated the people, strategies, and innovations that are hard at work to create equitable and prosperous economies for women and men around the world.
This post summarizes our month-long #SheFightsPoverty blog series and social media campaign in honor of International Women's Day 2018.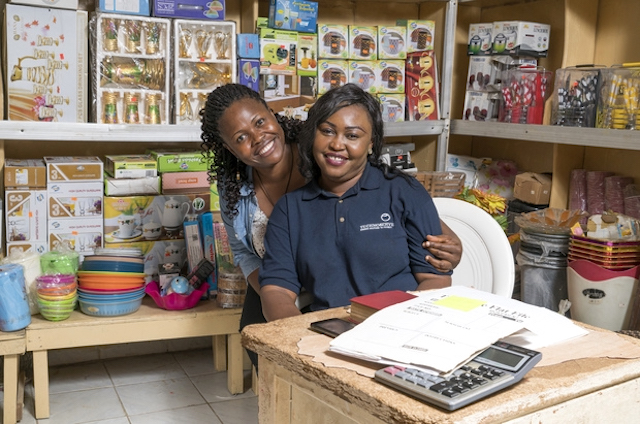 In our month-long blog series, we explored strategies and stories from our work supporting women to transform their livelihoods:
Closing the gender gap is essential to growth in Africa, where women generally have less access to education, training, and financial services than men do. Dace Mahanay, TechnoServe's Regional Director for the STRYDE program, discusses keys to supporting young women's business success.
In Ethiopia, women carry out 75 percent of labor in the coffee value chain, earning only 43 percent of its income. Kebebushe is one of 79 agronomists working with Nespresso to support 40,000 coffee farmers to improve farming practices along with the status of women throughout the value chain.
Cultural gender norms held Indu Devi and other women entrepreneurs back from business success. With access to formal financing and business training, she's integrated her enterprise into a profitable fox nut snack company.
In an article for the World Economic Forum, TechnoServe's Program Director for Central America Entrepreneurship discusses ways to engage entrepreneurs in practices that not only benefit women workers and suppliers, but help solve some of the issues facing small and medium businesses.
In the Majang Forest of Ethiopia, TechnoServe is jump-starting forest-based economies by helping women to reduce time spent in drudgery, launch income-generating activities, and enter competitive markets for non-timber forest products.
Kate Scaife Diaz, TechnoServe's Director of Impact, discusses results from TechnoServe entrepreneurship projects and highlights how our data shows similar impact among the men and women we work with.
We celebrated the hardworking women who help to drive our mission through social media spotlights:
Meet some of the women staff, beneficiaries, and donors supporting TechnoServe who shared how #SheFightsPoverty on Facebook and Twitter.
This is Seyki, a gender trainer for TechnoServe's @ITE_TechnoServe program. #SheFightsPoverty by introducing the women and men of farming communities to gender issues, and helping to include more women and youth in local economies. pic.twitter.com/jokoOuaTTf

— TechnoServe (@TechnoServe) March 30, 2018
We shared the stories of enterprising women from across the globe
Explore the map below to meet some of the inspiring women who are chanelling the power of the private sector to overcome poverty. Click here to view on a mobile device.