Sarah and Shay Wester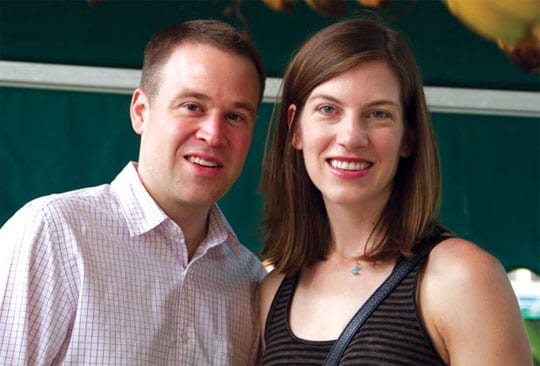 GAC members are active supporters who advance TechnoServe's mission by contributing time, talent and funds. In 2012, the Westers moved from Washington, D.C., to Singapore, where Shay is a foreign policy professional and Sarah is pursuing her Master of Business Administration at INSEAD.
How did you first become involved with TechnoServe?
We wanted to get involved with a D.C.-based organization where we could donate both time and financial resources to help make an impact. Sarah is interested in the agricultural sector, having been involved in the local food movement in D.C. We chose to support TechnoServe because we were so impressed with its operations and results.
You participated in our annual meeting last year in New York. What was that experience like?
It was a great way to get to know the amazing staff members, plus fellow members who believe in what TechnoServe is doing. We also heard about TechnoServe's work in Latin America and Africa directly from the field staff, which furthered our commitment to the organization.
What do you think are the greatest challenges for people trying to lift themselves out of poverty?
One major challenge is a lack of access to the world economy. We believe strongly in TechnoServe's approach: "business solutions to poverty." By connecting enterprising people with markets, skills and tools, TechnoServe is significantly increasing their chances of success.