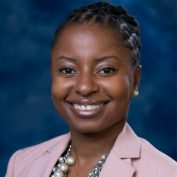 Shingi Nyamwanza
Country Director, South Africa
Shingi has over 14 years of experience in development, specializing in youth development, enterprise development, and agribusiness.
Previously, Shingi was Program Director for the Anglo American Zimele Program in South Africa. In this role, she led strategic oversight of the implementation of enterprise, supplier, and youth interventions across 8 mining sites. The program was recognized at the 4th Absa Business Day Supplier Development Awards, in November 2021, for outstanding work with youth and on impact.
Prior to re-joining TechnoServe, Shingi was a Manager in the Agribusiness, Climate Change, and Market Development Practice at the management consulting firm Genesis Analytics where she led a number of strategy development assignments across Africa. Her clients included the Alliance for a Green Revolution in Africa (AGRA), African Enterprise Challenge Fund, and the MasterCard Foundation.
In a previous role at TechnoServe, Shingi was Technical Advisor for the multi-country STRYDE program where she was responsible for building country teams' capacity for youth economic empowerment in Rwanda, Kenya, Tanzania, and Uganda and ensuring quality control of program implementation.
Shingi has extensive experience building and executing strategic plans with partners in South Africa, Ghana, Tanzania, and Kenya to engage young farmers. Until 2016, Shingi was the Africa Managing Director of the National 4-H Council, America's largest youth development organization, serving seven million young people worldwide. She partnered with 4-H country leaders to implement youth in agriculture policies and sustainable replication models for community-based positive youth development programs.
Shingi holds a master's degree in business administration from Bellarmine University, Louisville Kentucky. She received her undergraduate degree in Biology from the same university.