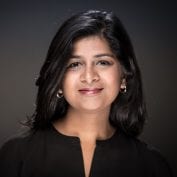 Monica Adractas
Global Director, Workplace by Facebook
Monica is Global Director and co-founder of Workplace by Facebook, an enterprise SaaS business that harnesses Facebook's consumer collaboration technology. Launched late 2016, Workplace now has millions of paid enterprise users across the globe. Monica is a thought leader and speaker on the future of work, innovation, and customer-driven growth.
Monica joined Facebook from Box, where she was Vice President of Customer Success. She helped lead Box through its IPO, pioneering programs to achieve industry-leading customer adoption. Prior to Box, Monica spent 10 years with McKinsey & Company in San Francisco and New York serving clients on growth strategy, digital, and customer experience.  Earlier in her career, Monica was on a New Ventures at Starbucks helping the company develop innovative 5-10 year growth businesses.  Monica is an active angel investor and advisor to emerging tech companies.
In 2001, Monica was a TechnoServe Fellow in Peru, where she worked with alpaca farmers. Her husband, John, was a TechnoServe Fellow in Mozambique in 2006. Monica and John both joined the Global Advisory Council (GAC) in 2008 and are current GAC members.
Monica earned a BS from the Wharton School at the University of Pennsylvania and an MBA from Harvard Business School. She lives in the Bay Area with her husband and three children.