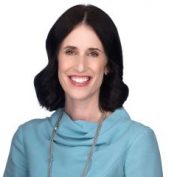 Michelle Peluso
Executive Vice President and Chief Customer Officer, CVS Health and Co-President of CVS Pharmacy
Michelle Peluso is Executive Vice President and Chief Customer Officer, CVS Health and Co-President, CVS Pharmacy, responsible for leading the front store Retail business, transforming CVS Health's consumer experience across all touchpoints, accelerating the company's digital transformation and advancing the company's brand and marketing.
Michelle has an extensive 25-year career building world-class consumer experiences. She most recently served as Senior Vice President, Digital Sales and Chief Marketing Officer for IBM where she oversaw all global marketing and brand experiences, digital sales and the commercial business. Prior to IBM, Michelle was CEO of Gilt from 2013 until its sale to Hudson's Bay Company in 2016. In her role at Gilt, she oversaw the expansion of the business and its drive to profitability.
Michelle served as Chief Consumer Marketing and Internet Officer for Citigroup, leading the bank's award-winning digital transformation. She also served from 2002 to 2009 as CEO of Travelocity, pioneering online travel and driving significant scale worldwide. She joined Travelocity following its acquisition of Site59, a travel site she created and launched in 1999.
Michelle earned a BA in Economics from the University of Pennsylvania's Wharton School of Business and an MA in Philosophy, Politics and Economics from Pembroke College at Oxford University. She is a member of the Board of Directors at Nike, Inc., and the nonprofit organization, TechnoServe. Additionally, she served as a White House Fellow and Senior Advisor to Secretary of Labor Alexis Herman.