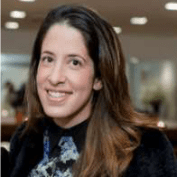 Mia Funt
Co-founder, COO, and Executive Vice President of Second Science Nutrition
Mia is the co-founder, COO, and executive vice president of Second Science Nutrition, an infant nutrition e-commerce company.
Previously, Mia was a Global Video Product Marketing & Strategy Director for Verizon/AOL and worked in advertising and media business development for AOL and Huffington Post. Earlier in her career, Mia was a strategy consultant at Kantar Futures.
In 2010, Mia was a TechnoServe Fellow in Rwanda, where she worked on the Gates Foundation East Africa Coffee Initiative. Mia holds a Bachelor's degree in Political Science and Philosophy from the University of Pennsylvania.