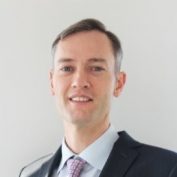 Jonathan Griswold
Country Director, Ethiopia
Jonathan Griswold joined TechnoServe as the new Country Director for Ethiopia in January 2022. Jonathan's career includes working in INGO, large corporates as well as consulting firms taking him to Asia, Australia, Europe, and the United States.
Before joining Technoserve, Jonathan was Visa Europe's Head of Partnerships since 2020. He was responsible for Visa Europe's Fintech, Processor, and Digital Partners (including Apple, Google, PayPal, Amazon, and others) and the use of those partnerships to grow sales, increase payments innovation and distribute Visa's services more broadly. He led a direct team of 25 and was responsible for $0.7B in revenue that grew almost 50% in the last 12 months. He worked for Visa for 9 years: in Singapore managing Corporate Strategy for North Asia, then in Sydney, leading Visa's relationship with Australia's second-largest bank, and most recently in London running Business and Sales Performance functions for Europe. Prior to his time at Visa, he worked at American Express in New York in their Strategy Planning Group and then in Business Development in India. 
Jonathan started his career with two years in Strategy Consulting for Oliver Wyman in Boston and Paris and three years managing microfinance institutions in Azerbaijan and Afghanistan for an American NGO, FINCA. As the first FINCA employee to be based in Afghanistan, he registered the NGO with the Afghan government, negotiated $1M in funding from the World Bank, and redesigned FINCA's loans and operating model for Islamic lending and ethnic, gender, and security challenges.
Jonathan holds a BA in History from Yale University, an MBA in Finance from Wharton, and an MA in International Studies from the University of Pennsylvania. He's married with 2 sons: James, 5, and Henry, 2.