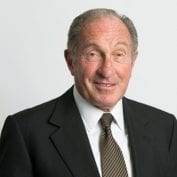 Anthony Bloom
Attorney
Anthony Bloom is an international private equity investor.  He has had a 20 year association with RIT Capital Partners plc, the listed UK investment trust chaired by Lord Rothschild.  Prior to his moving to London in July 1988 he lived in South Africa where he was Chairman and Chief Executive of The Premier Group, one of South Africa's biggest diversified industrial enterprises which operated in the food, pharmaceutical and leisure industries and indirectly in beverages, retail activities and hotel operations.  In South Africa he was a member of the Board of Directors of Barclays Bank, Liberty Life Association and South African Breweries.
He is currently Chairman of Cineworld plc and a member of a number of other boards, most of which are associated with his investment portfolio.
For many years he was a member of the Development Board of the National Theatre and is currently a director of the London Symphony Orchestra.
He was educated at the University of Witwatersrand in Johannesburg, Harvard Law School and the Stanford Graduate School of Business.  He is a member of the Dean's Advisory Board of the Harvard Law School.  His interests are music, theatre and sport, and he is married with four children.  In March 2002 he was awarded the Degree of Doctor of Law honoris causa by the University of Witwatersrand in recognition of his contribution towards the establishment of a non-racial society in South Africa.