 Transforming Lives
TechnoServe believes in the power of private enterprise to transform lives.
We transform lives at the household level by working with smallholders like Mustaq Ahmed, a soy farmer in Rajasthan, India, to adopt sustainable farming practices, connect to reliable markets and increase families' incomes.
We transform lives at the community level by working with entrepreneurs, like Fara Sánchez, the general manager of a busy restaurant in Guatemala, to access financing, grow thriving businesses and create vital local jobs. Or by working with producer groups, like the first coffee-farming cooperatives in South Sudan, to improve business practices, access premium international markets and bring new prosperity to entire communities.
And we transform lives at the country level by working with players across an entire market system, like the cashew producers and processors in northern Mozambique, to catalyze competitive industries that are improving the livelihoods of tens of thousands of families.
This is how TechnoServe helps create transformative, on-the-ground, market-based solutions to poverty. We focus on opportunities to effect change at scale, targeting improvements in market systems and building relationships between diverse partners to ensure self-sustaining economic growth.
Our 2014 Annual Report shows the impact we are making in the lives of enterprising people in 29 developing countries. These efforts are driving large-scale transformation and creating prosperity for individuals, families and communities for generations to come.


Paul E. Tierney, Jr.
Chairman of the Board


William Warshauer
President and CEO
Our Impact
In 2014, TechnoServe worked with enterprising people across 29 countries to build competitive farms businesses and industries. These efforts generated more than $61 million in financial benefits and touched the lives of 1.7 million people.
Explore our impact below
Financial
Benefits
How much better off are TechnoServe beneficiaries?
We measure our impact in terms of the increased revenue earned by farmers and businesses and the increased employee wages that are directly attributable to TechnoServe's work. These financial benefits help families improve their lives.
$61,400,000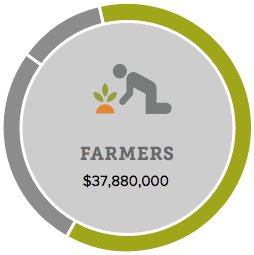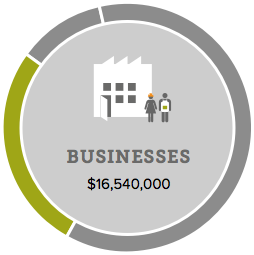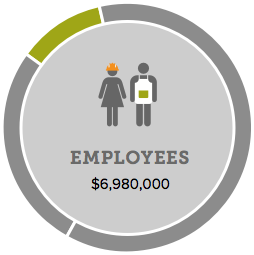 Reach
Who benefited directly from our work?
We work to strengthen market systems so that smallholder farmers can sustainably increase their incomes. We help enterprising women and men build and expand businesses that provide economic opportunity. And we target industries with the potential to create jobs on a large scale in poor communities.
333,700
32% of whom are women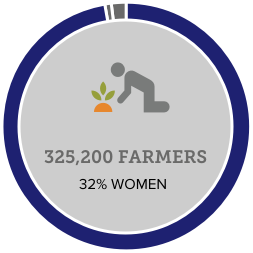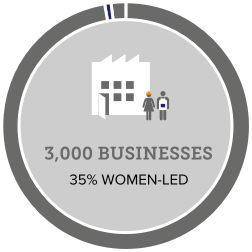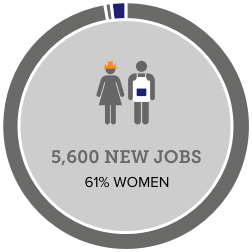 Economic growth is more sustainable when both women and men have full access to education, assets and finance. TechnoServe is committed to engaging and benefiting women in all of our programs. Our reach demonstrates a concerted effort to address gender gaps – and a call to do more in the future.
1.7 Million
*based on an average of five people per family
Sustainability
Are these benefits lasting?
We hold ourselves accountable for creating sustainable impact, which means the benefits of each project continue long after TechnoServe's involvement ends. We measure finance mobilized as one proxy for sustainability. Private sector investment in the farms, businesses and industries we support demonstrates the market's confidence in these players and enables them to drive real and lasting change long after we're gone.
$23,890,000