TechnoServe Highlighted in New Book on Food Security
October 27, 2011
With a growing world population and unstable food security in developing economies, how will the impoverished feed themselves in years to come?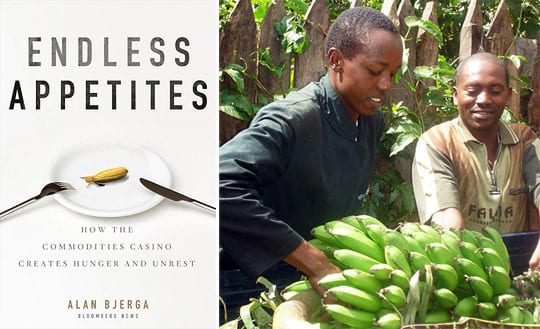 The United Nations projects that by the end of October 2011, the world population will top 7 billion people. This milestone has brought increased attention to another number—925 million. That's the number of undernourished people estimated to live in the world today, as cited in a 2010 FAO report. Considering recent record peaks in food prices and diminished availability, how will the world's poor manage to feed themselves in years to come?
Alan Bjerga, agricultural policy journalist for Bloomberg News and former president of the National Press Club, addresses this question in Endless Appetites: How the Commodities Casino Creates Hunger and Unrest, a new book that unravels key issues surrounding the international food crisis.
In Endless Appetites, Bjerga cites the chief cause of recent food price volatility as a market reaction to tightened surpluses in times of unpredictable weather. International commodities markets can react in ways that are especially unfavorable to the world's poor. Price increases measured in cents, let alone dollars, can mean the difference between a full or empty stomach.
And nowhere else is the issue of food security more apparent than in sub-Saharan Africa, where 30% of the population suffers from undernourishment—the highest proportion in the developing world. Despite this troubling fact, world leaders have recognized the region as a sustainable resource for feeding itself, and eventually, others parts of the planet as well. Bjerga writes:
Interest in African minerals goes back centuries, while farming has always been a more mundane investment...High food prices and lower risks in Africa may change that. A patchwork of projects spanning the continent—with investors ranging from large multinationals to mid-size shippers and processors to small and medium size local enterprises—is moving to boost the region's farming possibilities as markets emerge, said Simon Winter, senior vice president for development at TechnoServe and former director of its African operations. Even successful growth creates a new round of questions. Are the right crops being grown? Is the financing, and the soil and water, sustainable? If the crop is grown well, will it have a market? Will the weather ruin everything? And who are the investors helping?
With so many food insecure people in the developing world, solving the problem can seem unmanageable. In this case, the solution starts with smaller numbers. Consider the impact of assisting thousands of farming families to improve the quality and quantity of their banana crop and connecting them to higher-paying markets. That's exactly what is happening in Kenya:
The Sabasaba Agribusiness Centre, 90 minutes north of Nairobi, was started in September 2010 by Agra, the Rockefeller Foundation, and TechnoServe. The enterprise was started to connect small growers of bananas with national, and ultimately, global markets for the tropical staple crop that's most consumed in the United States and third-most-consumed in the world. The center, built on 1.5 acres of land for about $14,000, gives buyers and sellers a place to weigh, grade, and set prices for the bananas, reducing transaction costs and making villagers more knowledgeable about pricing. Eventually, the farmers hope to build a cooling facility to make longer-term storage possible, further helping their bananas gain access to new customers and getting higher prices for their bunches.
Such a facility already exists near Meru, an eastern Kenyan city on the slopes of Mount Kenya, one-half mile south of the equator. There, Rosemary Muthomi and her husband, Gerald, have built two businesses, Meru Greens Horticulture and Mt. Kenya Gardens, that have become leading suppliers of bananas to Nairobi's prospering shoppers—and soon, the Muthomis hope, the world...
Throughout their time as business owners they've been advised by TechnoServe, which helped them master agricultural supply chains, and suggested basic marketing ideas not common to Kenya. Sales jumped, for example, when the company started putting stickers on their supermarket bananas to distinguish their brand from others. Sales at Mt. Kenya Gardens rose from more than $500,000 in 2008 to almost $700,000 in 2009 as they supplied Kenyan grocery chains with fresh produce. The couple would like to begin exporting in the next few years, first to nearby African and Middle Eastern countries where it may be easier to meet foreign food–safety standards, then to Europe, a potentially lucrative market for Kenyan bananas.
By decreasing household vulnerability to food price jumps through increased incomes, TechnoServe is working to curb the effect that price volatility has on the poor. When farming families have higher incomes, they are less likely to reduce their food consumption or cut down on health and education expenditures to compensate for higher food costs.
Ultimately, however, the solution to the food crisis does not solely rest in increasing incomes. It is multifaceted. Our evolving strategy is taking complementary interventions into consideration, helping switch handout-based approaches into those that are commercially and economically sustainable.
Read Endless Appetites to learn more about the international food crisis.
Read more about Gerald and Rosemary Muthomi's success.
Related Blog Posts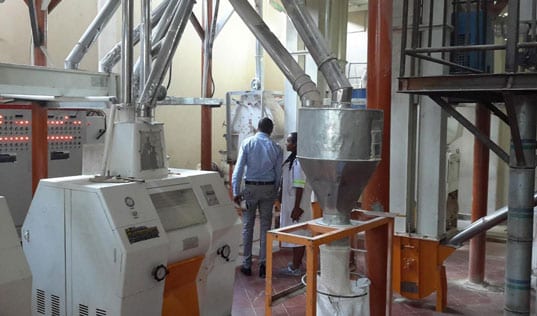 The Strengthening African Processors of Fortified Foods (SAPFF) project helps food companies increase their capacity to produce and sell fortified foods, improving nutrition and health outcomes. Today, we're sharing a behind-the-scenes look at the daily activities of the SAPFF Tanzania team.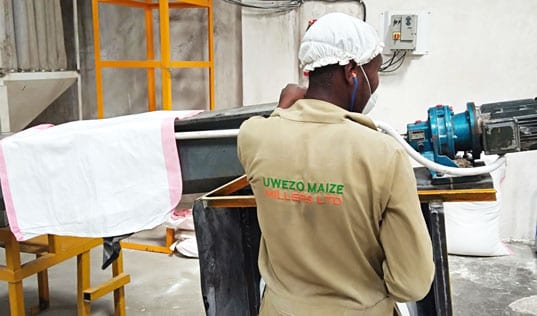 Chronic malnutrition is a widespread issue that has serious health impacts, particularly for children. When implemented in a business-friendly way, food fortification offers a relatively simple solution.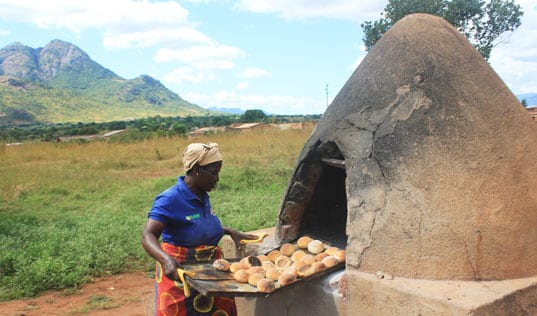 In northern Mozambique, TechnoServe worked with a women's cooperative called Nossara to promote local consumption of soybeans, improving both incomes and nutrition.