Entrepreneurship Bolsters Communities in Swaziland
October 02, 2013
Through a network of nonprofit partners, TechnoServe is empowering women to build profitable and sustainable microenterprises that are improving livelihoods and supporting children impacted by AIDS.
TechnoServe business advisor Musa Maseko delivers financial literacy training to a group of rural women entrepreneurs in Swaziland.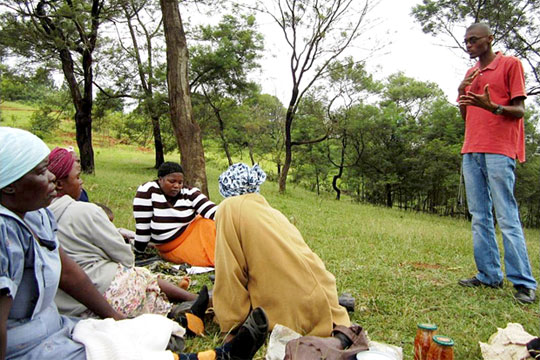 Thobile Simelane lives in Ndzingeni, a sprawling rural community set among the pine forests and rocky foothills of northern Swaziland. There, she cares for four young children – two of her own, as well as two nieces who were orphaned when their mother died of AIDS.
Thobile's husband works in South Africa and is gone for months at a time. To help sustain her family, Thobile raises broiler chickens and makes her own floor polish, all of which she sells to members of the local community. When TechnoServe business advisors met with Thobile, they discovered that she was making more than $40 from her broiler chickens, while losing more than $10 per month from the floor polish. Though her combined activities were profitable, Thobile hadn't realized that she could be earning more income by foregoing the floor polish and focusing on chicken rearing.
Across Swaziland, women like Thobile are engaged in various income-generating activities – including sewing school uniforms, raising pigs, weaving grass mats and farming cotton – but many lack the financial skills to make strategic business decisions. Some of these women also serve as caregivers for children impacted by HIV/AIDS, often struggling to meet basic needs for their expanded households.
The HIV/AIDS epidemic in Swaziland has resulted in more than 120,000 orphans and vulnerable children, roughly 10 percent of the country's entire population. By empowering the caregivers of these children with foundational entrepreneurship skills, TechnoServe aims to help mitigate the long-term social and economic impact of the disease.
Sponsored by the U.S. Agency for International Development (USAID) and the European Union, TechnoServe conducted detailed interviews of more than 120 entrepreneurs engaged in 19 of the most commonly practiced microenterprises. Finding that profits varied widely across different kinds of enterprises and even among similar activities, TechnoServe partnered with other nonprofit organizations to help women who are caregivers start and sustain profitable microenterprises. With their improved incomes, these women can pay for school fees and provide better nutrition and critical health care for their households.
TechnoServe is working with a network of organizations, such as Pact and Save the Children, to strengthen women economic empowerment programs across Swaziland. Through a series of large symposiums and individually-tailored seminars, TechnoServe delivered findings and recommendations to representatives from nearly 30 organizations, offering valuable insight into ways to create the greatest impact for their beneficiaries across different types of microenterprises. TechnoServe is also providing ongoing support for partner organizations and beneficiaries through a radio education campaign offering business training and market information for rural entrepreneurs.
With TechnoServe's assistance, women like Thobile are receiving the training, advice and access to finance they need in order to build thriving microenterprises that improve their livelihoods and allow them to better provide for the children in their care.
Related Blog Posts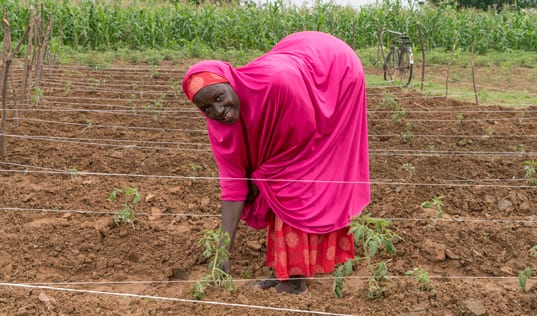 In Nigeria, TechnoServe is helping tomato farmers boost incomes and reduce post-harvest losses, while adapting to a changing climate.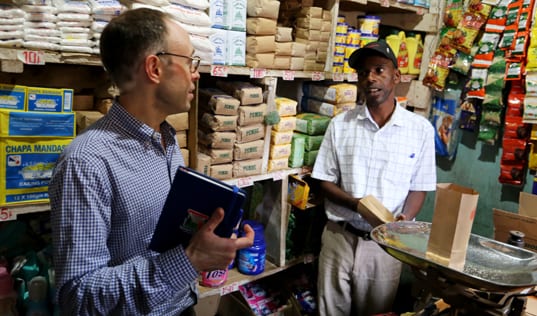 TechnoServe and Moody's Foundation have partnered to support micro-entrepreneurs in Kenya's micro-retail sector through the Smart Duka Initiative.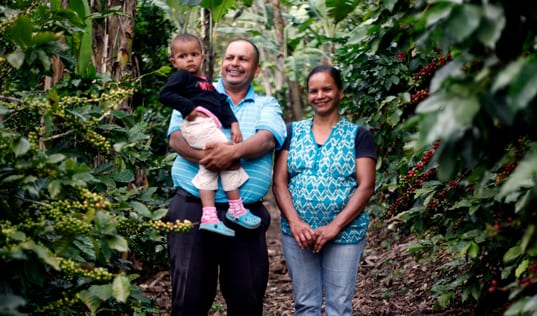 To celebrate National Coffee Day, TechnoServe shared insights and stories about the smallholder farmers who grow this transformative crop and the impact coffee has had on their daily lives.