Pepper Farm Creates a Brighter Future for Swazi Residents
TechnoServe helps a Swazi Mission hone its farming techniques so that it can harvest and sell chili peppers, creating revenue that benefits HIV/AIDS patients and orphans.
St. Philip's Mission has a long history of doing charity work in Swaziland, including running a school and health clinic in one of the country's poorest, most remote areas. One of their primary areas of focus is ministering to HIV/AIDS patients and providing a home for AIDS orphans (Swaziland has the world's highest HIV/AIDS rates). To help feed the orphans as well as to fund their various programs, the mission started a farm. Vegetable crops such as tomatoes, cabbage and onions grew well in the healthy soil and hot climate. But by 2006, they were only selling a few crops to low-paying local markets and struggling to make a profit.
Two TechnoServe business advisors were brought in to assess the operations. They saw good potential in a different, more profitable crop, chili peppers. So TechnoServe linked the mission to the African supplier to an international hot pepper sauce manufacturer.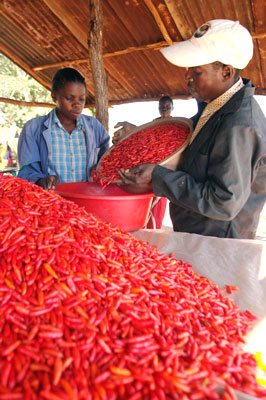 An initial contract with the buyer has generated a reliable revenue source and enabled the farm to employ five full-time staff and 50 part-time workers, which is a boon to residents who have few other employment options. TechnoServe – with generous support from USAID – is teaching them modern farming methods, including the most effective way to plant the peppers and other good agricultural practices. The mission is looking forward to collecting their first harvest in 2009.
"This kind of advice is critical," says Sister Diane, who oversees farm operations with help from the local Swazi staff. "We can grow better crops and generate more income for the project to make it more sustainable."
The farm is also growing cabbages among the peppers, to make the most of fields that are already plowed, planted and weeded. And the workers are able to apply better farming skills to their own crops that they're growing back in their villages to feed their families. The farm's business success can also serve as a model for other communities. "Our successfully growing crops here gives the surrounding communities a great sign of hope for the future," says Sister Diane.