Soy Value Chains
With support from the Bill & Melinda Gates Foundation, TechnoServe is helping to grow the incomes of tens of thousands of small-scale farmers in southern Africa by promoting the development of the local soy industry.
With new profits from soy, Catarina Alberto has built a house for her family and bought a dehulling machine for her crop and those of neighboring farmers.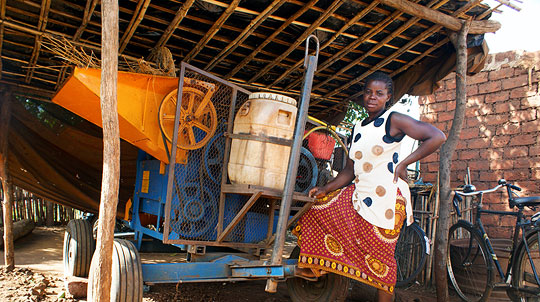 Opportunity
Sub-Saharan Africa contributes less than one percent of the world's soy, but the crop has the potential to become a key source of income for smallholder farmers in the region. A growing and relatively stable livestock industry creates the market demand for local soy production and processing. When used in rotation with other crops such as maize and cotton, soy contributes to revenue and risk diversification, additional income and yield increases. As a low cost protein source, soy also contributes to food security and nutrition.
Mozambique and Zambia share a promising market outlook for soy but are at different stages of industry development. In Mozambique, soy is a relatively new crop, and the domestic poultry industry, which TechnoServe recently helped to revitalize, imports nearly 100 percent of the soy it uses for feed, creating a growing demand for domestic production. In Zambia, the market is more mature, but opportunities for smallholder farmers are limited.
Strategy
TechnoServe is helping to grow the incomes of tens of thousands of small-scale farmers in southern Africa by promoting the development of a local soy industry through a grant from the Bill & Melinda Gates Foundation. The four-year, $8 million soy value chain program seeks to increase the annual incomes of 30,000 smallholder families in Mozambique and 7,000 families in Zambia by an average of $200.
TechnoServe business advisors are training farmers in good agricultural practices and linking them to small-scale feed processors. The program builds on TechnoServe's proven model for increasing farmer incomes by promoting improvements across an industry's entire supply chain. TechnoServe, in partnership with a range of businesses, nonprofits and public-sector organizations, is helping farmers purchase premium seeds and other supplies, learn vital techniques for growing soy and form farmer business organizations. At the same time, TechnoServe is promoting investments in soy storage and processing as it works to develop the local feed and livestock industries, ensuring that the smallholder farmers have a stable market for their crops. In order to help address women's limited access to productivity tools, TechnoServe is developing seed multiplication and other commercially sustainable approaches that are accessible to women farmers.
The effort in Mozambique and Zambia is part of TechnoServe's broader vision for the soy industry in the region. In the next 10 years, TechnoServe hopes to significantly increase the incomes of 200,000 households in southern Africa through the development of a competitive local soy industry.
Results
Since the program's launch in May 2010, TechnoServe has successfully increased the annual incomes of 32,936 farmers in Mozambique and Zambia by an average of $287, achieving 144 percent of the program's income goal.
Partners
Guided by the belief that every life has equal value, the Bill & Melinda Gates Foundation works to help all people lead healthy, productive lives. In developing countries, it focuses on improving people's health and giving them the chance to lift themselves out of hunger and extreme poverty.
Local partners: In Mozambique, TechnoServe is working in partnership with CLUSA, a leading provider of organizational and marketing assistance to smallholder farmers, to help program participants create farmer organizations and meet the growing demand for soy of the poultry industry. In Zambia, TechnoServe is working in partnership with Cargill, and the Ministry of Agriculture and Livestock to link smallholder soy producers to the feed and livestock industries and to promote innovative price-risk management products to help stabilize the soy market.