Checking in with the Conservation Cotton Initiative: Meet Francis Obwana
February 21, 2013
The Conservation Cotton Initiative in northern Uganda is helping farmers like Francis Obwana rebuild their lives after decades of violent conflict.
This content was originally posted on Edun's Inspired by Africa blog. Founded by Ali Hewson and Bono in 2005, Edun is a global fashion brand bringing about positive change through its trading relationship with Africa, and its positioning as a creative force in contemporary fashion.
Francis Obwana stands near his corn crop on his farm in northern Uganda.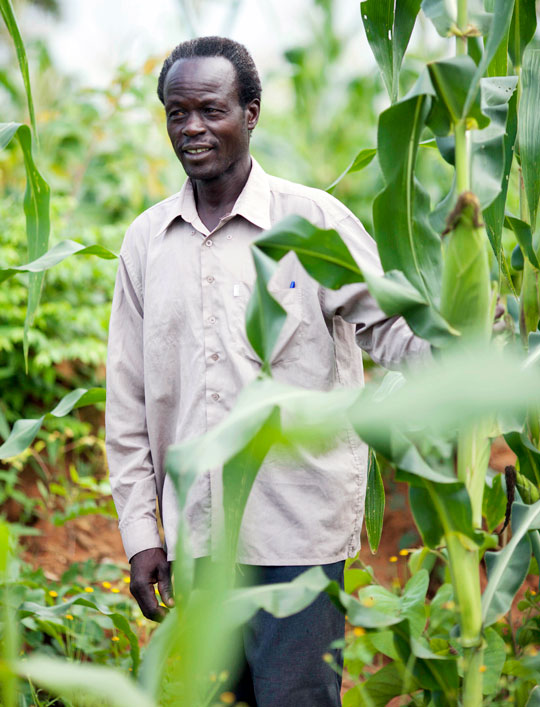 Francis is a member of the Kidere producer business group, which is made up of 150 farmers as part of EDUN's Conservation Cotton Initiative farming program in Uganda. How has the program changed his life?
Francis is a father to 24 children, of which seven were abducted by the Lord's Resistance Army (LRA). Two returned home, and five are still missing.
In 2000, Francis and his family went to live in an internally displaced persons camp (IDP camp), where they lost their ability to farm for themselves. They returned to their land in 2007, still traumatized by their experience but determined to reestablish their livelihoods.
So they began to grow corn, beans, groundnuts and cassava. In 2009, with support from the Conservation Cotton Initiative, they began producing cotton on two acres. In 2011, Francis and his family began working with TechnoServe, which helped train them in business and production skills, such as planting seeds in a straight line, spacing them correctly, and weeding their crops. TechnoServe also connected them with a local buyer, as well as supplies of inputs such as seeds and pesticides.
Before TechnoServe came along, Francis was producing 500 kilograms per acre. Today his yields are 1,200 kilograms per acre. His family continues to produce more and more food crops, enough to sell to the local market and provide food for the household. Francis uses his profits from cotton growing to pay school fees for his six children in primary school and two in secondary school. "We want to remain cotton farmers for life," Francis says.
Related Blog Posts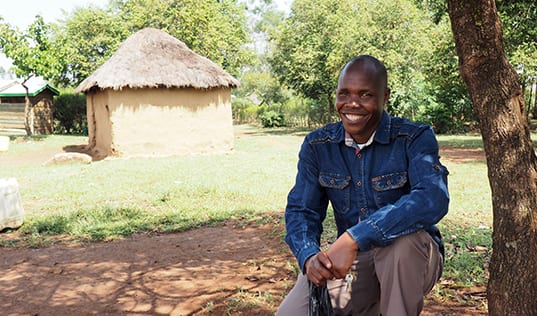 Peter Rotich, a maize farmer in Kenya, demonstrates a sustainable model for increasing smallholders' access to mechanized services and best agricultural practices.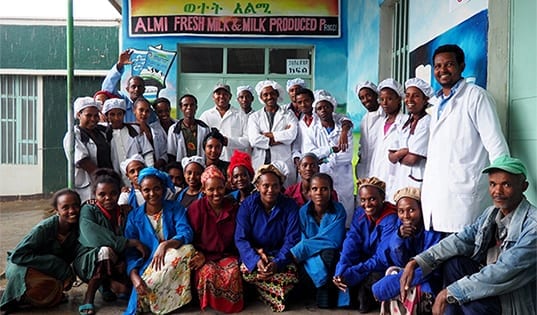 This Feed the Future Week, we are highlighting how food processing businesses are working to #EndHunger by increasing their capacity to provide quality, nutritious fortified foods for local communities.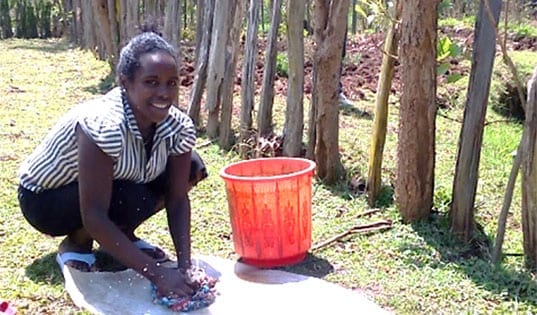 In Sidama, Ethiopia, communities rely on rivers to both process their coffee and provide for their families. The Water Wise project introduced a simple solution to keep rivers productive and clean for coffee economies.