Honoring the Legacy of Our Founder
February 23, 2015
We pay tribute to TechnoServe's founder, Ed Bullard, who would have celebrated his 80th birthday today.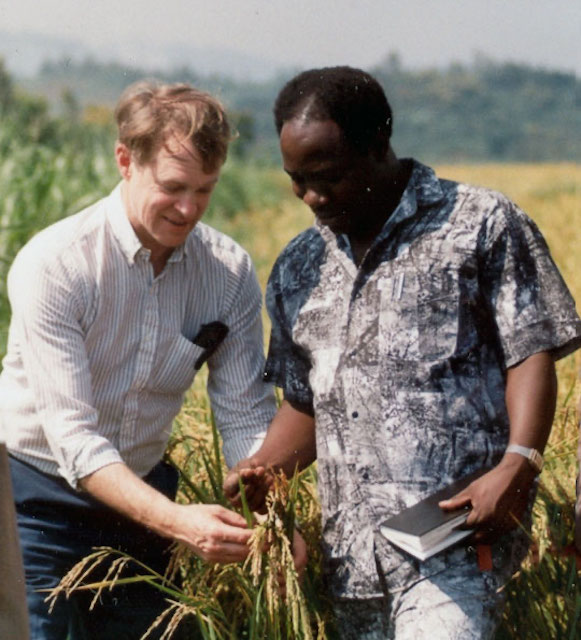 Ed Bullard, left, visiting a TechnoServe rice project in Rwanda.
TechnoServe was founded in 1968 by businessman and philanthropist Ed Bullard, who believed in the power of private enterprise to transform lives.
Traveling to Ghana for a year of volunteer service, Ed saw that the Ghanaian farmers around him struggled because they lacked the knowledge, skills and tools needed to lift themselves out of poverty. He was inspired to launch a different type of nonprofit – one that would help hardworking men and women in the developing world access information and market opportunities.
"We at TechnoServe believe that the future will demonstrate that a quiet revolution has already begun in many [developing] countries, a revolution of prosperity and hope for the rural poor," Ed said in a speech 25 years later. "It is a movement reflecting the time-honored traditions of free enterprise, stake, hard work and business acumen."
Today, on what would have been his 80th birthday, we celebrate Ed's legacy. His pioneering spirit and his belief in the power of private enterprise continue to guide our work every day.